CogitoPraxis 360º corporate citizenship advice is designed to support business and professional leaders as they seek to transform the role of their organisations in society.
Firms are increasingly judged on all their actions by all their stakeholders: employees, customers, suppliers, the public, media, government, regulators as well as shareholders.
Current indicators of stakeholder capitalism all fall short. Corporate social responsibility (CSR) varies from firm to firm. Environmental, social and governance (ESG) metrics are meant for investors and too frequently become a box-ticking compliance exercise. Corporate 'purpose' is often a new label on an old business model.
Still, many organisations accomplish many admirable actions. But those actions tend to be dispersed and dissociated.
Even when an organisation takes a 360º approach to corporate citizenship, it cannot stop there. Corporate citizenship requires continuous improvement. It will never be finished or complete.
CogitoPraxis aims to help organisations assess, attain and sustain the finest 360º corporate citizenship to which they can aspire.
Read our two-pagers here:
360º Corporate Citizenship as a solution
360º Corporate Citizenship as a solution
Addressing the challenges in their totality
Company leaders face two problems as they seek to reshape the role of their firms in society: one strategic; one managerial.
The strategic problem is clear and well recognised: how to make the transition from running the company principally for the benefit of shareholders to doing so in the broader interest of all the company's stakeholders.
The managerial problem is more intractable: how to put these good intentions into effect?
Imperfect responses
Current approaches to implementing stakeholder capitalism all fall short.
Corporate social responsibility (CSR) varies from firm to firm. It is whatever the company says it is. This leads to accusations of self-serving greenwashing, a form of misrepresentation.
Environmental, social and governance (ESG) metrics are meant for investors. These metrics are incomplete overall and also inside each E, S and G category: they fail to measure all the actions of the business towards all stakeholders. And ESG too frequently becomes a box-ticking compliance exercise, again potentially leading to window-dressing and greenwashing.
Corporate 'purpose' is often a new label on an old business model. No short slogan can convincingly capture the breadth and complexity of implementing a policy of responsible business and integrating it lastingly into the corporate DNA.
The dilemma of dispersion
Still, many organisations accomplish many admirable actions. But there is a dilemma here, too.
However strong the vision and determination on the part of the chief executive and the chairperson, however full the agreement and support from the board of directors, those senior leaders cannot put the company's transition to stakeholder capitalism into practice at ground level and on a day-to-day basis on their own.
The burden of implementation naturally falls on the members of the executive committee, each of whom manages a division or a silo containing myriad managers and sub-managers and beyond. These ExCo members are directly accountable for the performance of their vertical. And they are often co-equal to each other, so they are perhaps less than directly accountable to the ExCo member for CSR or ESG or the corporate foundation or even sustainability.
Consequently, while the company may accomplish many admirable actions, those actions too often remain dispersed, not properly joined-up. Someone or something needs to connect the dots.
What's the matter?
The fault lies not in the action but in the concept.
CSR, ESG, purpose, even 'sustainability' are often expressions of responsible business as an add-on. But responsible business needs to be integrated into every decision, every action and every interaction of every person in the company. Responsible business is not just a code of conduct, nor just a nice-to-have thing-to-do, but a fundamental transformation of the ethos of the organisation.
Responsible business concerns a multitude of judgemental, subjective, soft factors. 'If you can measure it, you can manage it' is a false flag, leading to all the distortions of ESG in particular.
What's the big idea?
The solution has to be simple and easy for everyone to understand. Since Antiquity, everyone knows how to distinguish a good citizen from a bad citizen. The same is true of companies.
360º Corporate Citizenship as a solution
CogitoPraxis has developed a methodology using 360 criteria in 36 categories within 6 classes to judge a company's corporate citizenship — the quality of all its interactions with all its stakeholders — gauged against the company's own policies and actions, against selected peers and against global best practice. This 360º approach to corporate citizenship addresses the strategic problem and the managerial problem together, both in concept and in action, in one complete solution.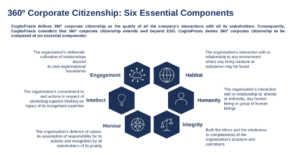 Corporate Citizenship in perspective
Corporate Citizenship in perspective
A bit of history goes a long way
Responsible business — whether labelled CSR, ESG or purpose — is neither woke nor even new. Consider it as a complete concept. Call that corporate citizenship. Then its lineage becomes clear.
Citizenship is classic
Ever since Antiquity, people know how to distinguish a good citizen from a bad citizen. In an epoch when citizenship was for the few, Aristotle defined citizenship as the ability 'to rule and to be ruled well', in other words: the capacity to exercise authority and to display responsibility. Cicero considered citizenship to be participation in a partnership with other members of society.
Corporate responsibility started long ago
Paternalism and philanthropy by company founders date at least from the beginnings of the industrial revolution with the advent of model villages and with the charitable donations throughout the centuries of, for example, Andrew Carnegie, the Cadburys, Lord Leverhulme and the Rowntrees, alongside many others across Europe and America.
The postwar movement towards corporate citizenship arguably began with the publication in 1953 of Howard R. Bowen's The Social Responsibilities of the Businessman. During the same decade, in 1955, Sloan Wilson published his novel The Man in the Gray Flannel Suit: its theme was finding purpose in a society of business materialism. The following year, William H. Whyte's The Organization Man became a bestseller: it describes stifling corporate conformity in the business world of the time. In 1962, The Silent Spring by Rachel Carson condemned the use of pesticides as well as corporate and government conduct that actively perpetrated environmental damage. Ralph Nader, in 1965, in his book Unsafe at Any Speed, similarly took the automobile industry to task for irresponsible corporate behaviour.
Davos man
One of the most persuasive and prescient articulations of corporate citizenship came in the form of the Davos manifesto issued in 1973 by Klaus Schwab, as a 'code of ethics for business leaders'. Its first sentence reads: 'The purpose of professional management is to serve clients, shareholders, workers and employees, as well as societies, and to harmonize the different interests of the stakeholders.' Professor Schwab later returned to this theme: '[A] new imperative for business, best described as "global corporate citizenship," must be recognized. It expresses the conviction that companies not only must be engaged with their stakeholders but are themselves stakeholders alongside governments and civil society.'
Momentum gathers
Governments, business groups and civil society organisations began to join the conversation.
In October 2005, the term ESG was first used by the United Nations Environment Programme Initiative in the Freshfields Report. This then developed into the UNPRI, the United Nations-sponsored network of investors adopting the Principles for Responsible Investment.
The 2006 UK Companies Act article 172 included this language: 'A director of a company must act in the way he considers, in good faith, would be most likely to promote the success of the company for the benefit of its members as a whole'.
In May 2019, the French Loi Pacte changed the definition of corporate purpose in the French Civil Code to include environmental and societal issues and to permit companies to include their mission (raison d'être) in their bye-laws.
In August 2019, the Business Roundtable in Washington DC released a new 'Statement on the Purpose of a Corporation' signed by more than 180 CEOs.
In November 2019, the British Academy published 'Principles for Purposeful Business'.
At the end of November 2019, the chairman of the Regierungskommission Deutscher Corporate Governance Kodex stated: 'enterprises that do not live up to their social responsibility will find it increasingly difficult to operate successfully in the market'.
In January 2020, the theme of the World Economic Forum Annual Meeting at Davos was 'Stakeholders for a Cohesive and Sustainable World'.
Covid cometh, then Larry dares
From the spring of 2020 until the spring of 2022 the world was challenged to deal with the Covid-19 pandemic, which showed forcibly the need for social solidarity, civic behaviour and for companies and governments to work together in a combined, coordinated pursuit of the public good.
As Covid ebbed, Larry Fink, chairman and CEO of BlackRock, in his letter to CEOs for 2022 entitled 'The Power of Capitalism', wrote: 'In today's globally interconnected world, a company must create value for and be valued by its full range of stakeholders in order to deliver long-term value for its shareholders.' BlackRock has since become a political target accused of 'woke capitalism'. When corporate citizenship becomes a political football, history is on the march.